If you are a subscriber or a preferred player, setting up a security key will be rewarded with 100 complementary cartel coins per month for free. That means you will get 1200 cartel coins per year with no further effort – don't be stupid an let that opportunity go to waste! With those cartel coins you can buy off items and sell them on the GTN for a high price. The cartel packs or example, always sell like hot cakes. Here is the the description from the official SWTOR website: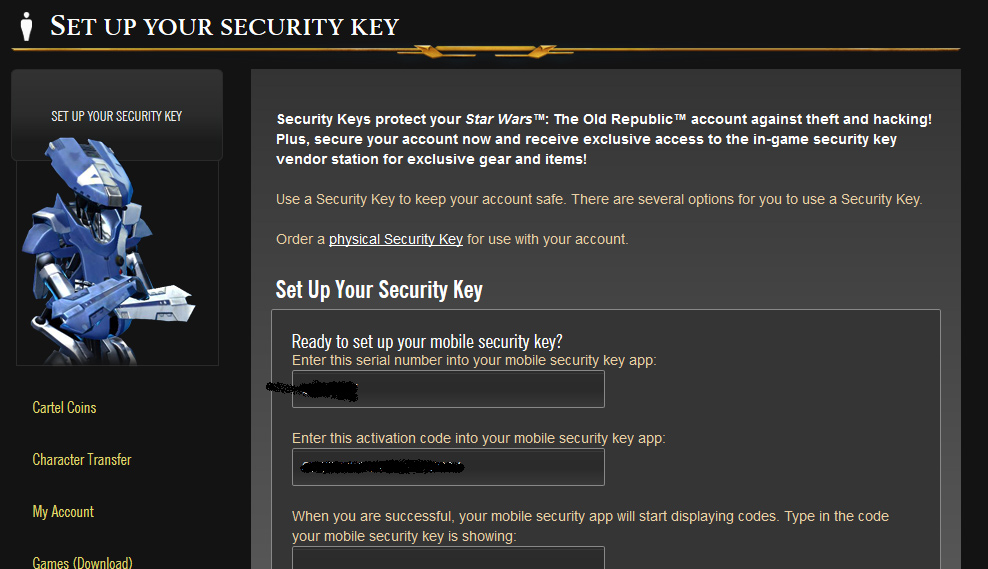 Security Key
Setting up your physical or mobile security key (iphone or android app) adds another level of protection to your account, which helps prevent unauthorized access to your account. Follow the simple instructions below to set up your security key.
Setup:
Log in to My Account – If you don't have a SWTOR account, you'll need to create one.
Answer your security questions – You need at least three security questions answered before you can set up your security key.
Set up your security key – Have your security key (mobile or physical) ready!
Under "My Account" you can easily check if the security key setup was successful:
Even as a Free 2 Play player you will be granted 100 free Cartel Coins per month!